Whether you're speaking at a conference, running an event, or leading a team meeting, you need to keep your audience engaged by encouraging them to interact and respond. But this isn't easy. Most audience members tune out presenters. In fact, four out of five professionals said they shifted their attention away from the speaker at the last presentation they attended. 
So what can you do to create a presentation that keeps your audience hooked and interested? Simple. Use audience response systems to increase interaction and participation during your event. 
What Are Audience Response Systems?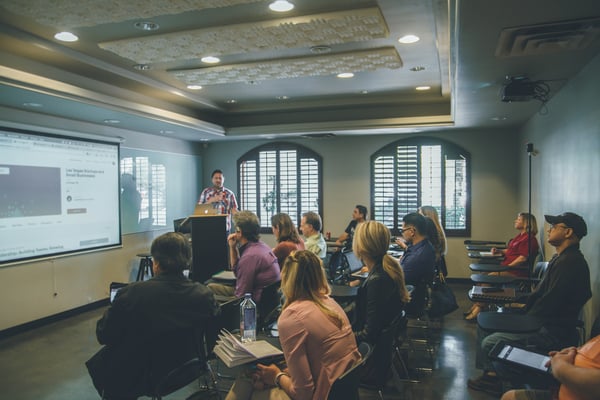 Audience response systems are platforms that help you make interactive presentations. With these systems, you don't have to fear or worry about your audience drowning out your message, checking social media, or texting while you speak.
Audience response systems help approach public speaking in a fresh, fun way that make your audience excited to interact. You don't have to continue doing long, conventional presentations you've seen others give. Just because that's the traditional route doesn't mean you have to follow the same path. 
"The reason they give these long traditional presentations is because that's the way they think they're supposed to do it, that's the way their boss does it."
- ​​Joey Asher, author of 15 Minutes Including Q & A, Quoted in Never Give A Boring Presentation Again 
If you really want to conquer your fear of giving boring presentations, you have to do something different. You have to include interactive content in your presentation, a feature 70% of marketers believe is critical to engaging your audience. And the best way to do engage your audience is with response systems, providing the opportunity to make your conference, event, or meeting worth your attendees' time. 

8 Amazing Audience Response Systems 
If you decide to use an audience response system, you need to make sure you get a high-quality one. There are many options on the market, and not all are great, so it's important to take the time to find the best tool.
For those of you limited on time, here are eight audience response tools to consider.

1. Slides With Friends 
Some platforms provide everything you need to engage and interact with your audience, and Slides With Friends is leading the pack. The brand provides interactive slide decks for in-person, virtual, and hybrid events and offers a host of features, including the following:

Once you create an account and start building your presentation, you'll notice even more features. Slides With Friends allows you to:

Create multiple choice questions 
Write text answer questions
Assign points to questions 
Reveal correct answers immediately or later
Develop rounds if you're playing a game
Showcase participants' scores
Incorporating these elements will ensure you have the best event possible. However, if all these features sound overwhelming and you're wondering whether it'll be hard to build your presentation, don't worry. Slides With Friends is easy to use and doesn't require a background in technology. 
‍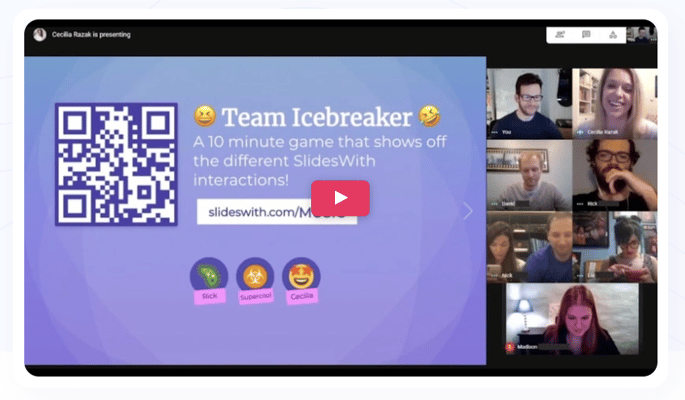 There are even pre-made templates available. You can choose a deck from one of the many categories that Slides With Friends offers. From there, you can keep the deck the same and start your presentation whenever you're ready.Or, you can customize it by updating the color scheme, adding or deleting features, uploading images, and more. Attendees can interact with your presentation using their phones—all you have to do is make your screen visible, whether that's sharing it virtually or making it noticeable in person.
The best part, though, is that you can enjoy this audience response system and all that it offers for free for up to ten participants. If your audience is larger than ten, you can get a Slides With Friends paid plan, which starts at $8 per month. If you have trouble building your presentation, Slides With Friends has short video tutorials you can use and their team is always ready to answer questions. 

2. Slido 
Slido is another tool you can use to increase your audience's interest and responsiveness during in-person, virtual, and hybrid meetings. The platform offers polls, word clouds, quizzes, and live Q&As to help speakers develop interactive presentations.
‍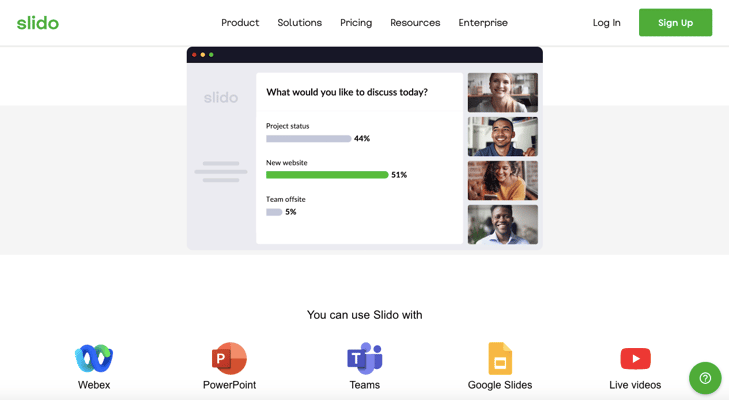 This audience response system is more well-known, even though there are many apps like Slido. That said, it's great if you want something more traditional, but keep in mind Slido is on the pricier side. If you help lead a team or enterprise, you could pay up to $200 per month.

3. Poll Everywhere
Maybe you just want to poll your audience to help boost interaction during your presentations. Polls are a great way to gather responses from your audience! If that's the case, Poll Everywhere may be a good option. Its main feature is polling, which the brand offers to help you gather and present live feedback. The tool integrates with PowerPoint, Apple Keynote, Google Slides, and other platforms. 
‍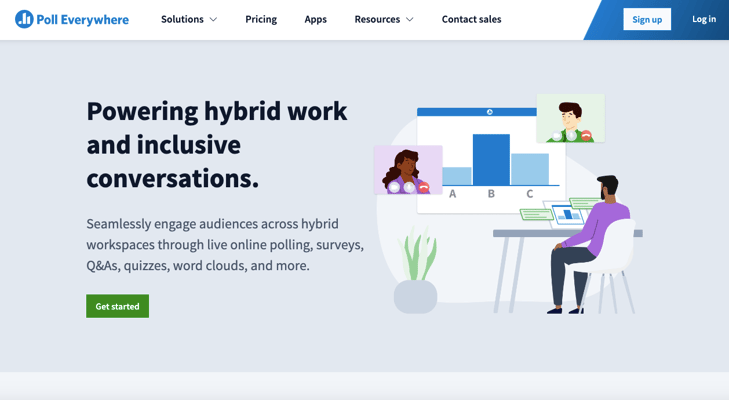 During your event, attendees can provide responses on mobile devices. And like many audience response systems, Poll Everywhere works for in-person and hybrid events. Overall, it's a high-quality tool you can benefit from—the only drawback may be pricing. If your audience contains more than 25 people, you'll need a paid plan, which starts at $42 per month. That might seem like a hefty price since Poll Everywhere only offers one interactive feature.

4. Glisser
Glisser is a virtual and hybrid event hosting platform that also allows you to make interactive presentations. The tool has several features, including quizzes, audience lottery, breakout rooms, polling, slide sharing, and round table networking. It's a robust platform since it can host events and provide audience engagement features. But you may need to be a little tech-savvy to utilize this system properly. 
‍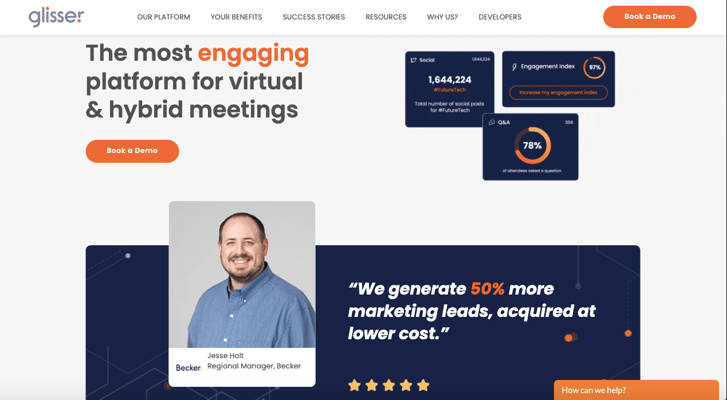 5. Vevox
Keeping your presentation fun can be easy with Vevox. This tool is a polling and Q&A platform that helps you garner responses from your audience in creative ways. You can get feedback from attendees using word clouds, surveys, and quizzes. Vevox also integrates with Microsoft Teams and PowerPoint, so if those are two of your most-used platforms, Vevox may be a great option. It also has some cost-effective plans, particularly for single users who'll be speaking at smaller gatherings. But if you don't fall in this category, you could pay up to $199.95 per month. 
‍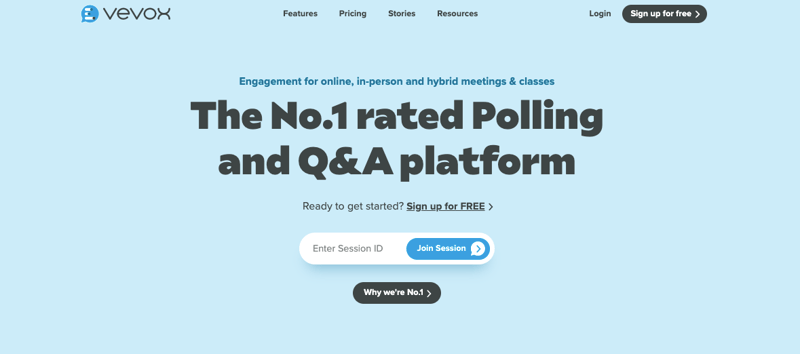 6. MeetingPulse
Sometimes, you need to take the pulse of your meeting to see if it's going well and MeetingPulse is one app that can help you do that. This platform helps you engage your in-person, virtual, or hybrid audience with real-time surveys, polls, audience feedback, live Q&A sessions, raffles, and quizzes. 
‍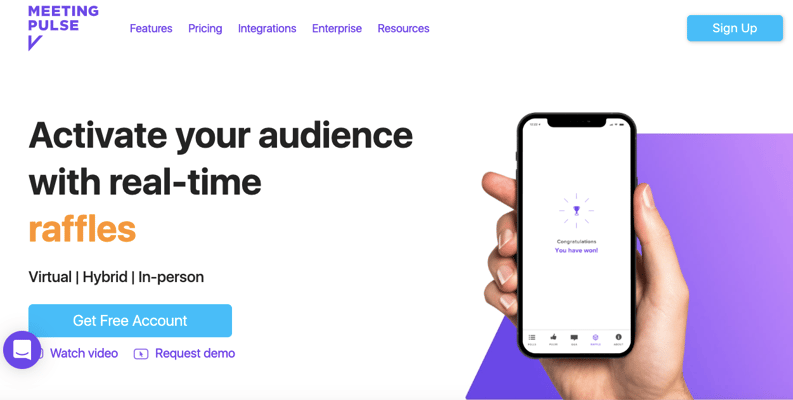 MeetingPulse is similar to a few other audience response systems as it integrates with platforms like Zoom, PowerPoint, Microsoft Teams, YouTube, and Vimeo. However, there's one similarity it shares with some audience response systems you may not like: It can be pricey. If you're running a large event or speaking at a conference, you likely need the paid $197 per month plan. That one will work for 250+ attendees. 
7. Crowdpurr
Crowdpurr is another top audience response system you should consider. This platform helps you create mobile-driven, interactive experiences for virtual and in-person audiences. Some of its features include trivia, polls, leaderboards, and bingo. 
‍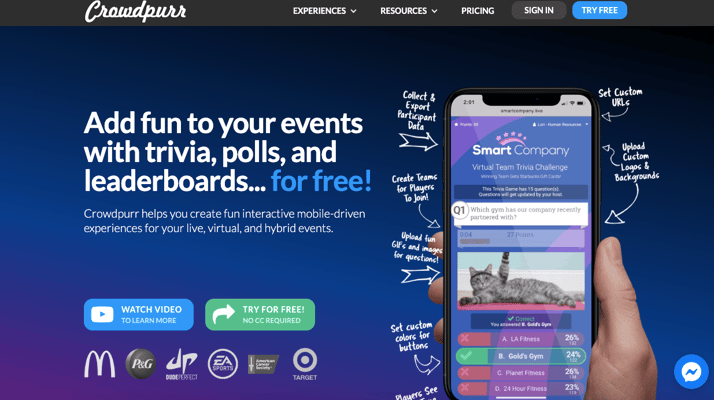 One of Crowdpurr's more unique features is social walls, which allows you to create a hashtag and aggregate all the Instagram posts and tweets that include the hashtag. This capability is not only a great way to keep your audience responsive, but it's also an easy way to generate awareness, especially if you're running an event or doing a speaking engagement at a conference. 
However, like most of the best audience response systems, Crowdpurr can be costly, depending on your needs. You can use the free plan if you have 20 attendees or less. But if your audience is bigger, you could pay anything from $49.99 to $499.99 per month. 

8. AhaSlides 
With AhaSlides, you can make interactive presentations that offer fun ways to excite your audience and get them to respond to you. This platform offers features like polls and word clouds, but it also has unique elements like idea sharing, which can help foster an environment for brainstorming, and scales, a feature allowing audience members to rate statements to a question on a sliding scale. Another wonderful thing about AhaSlides is it provides pre-made templates, so you don't have to build something from scratch and can simply customize the deck to fit your needs. 
‍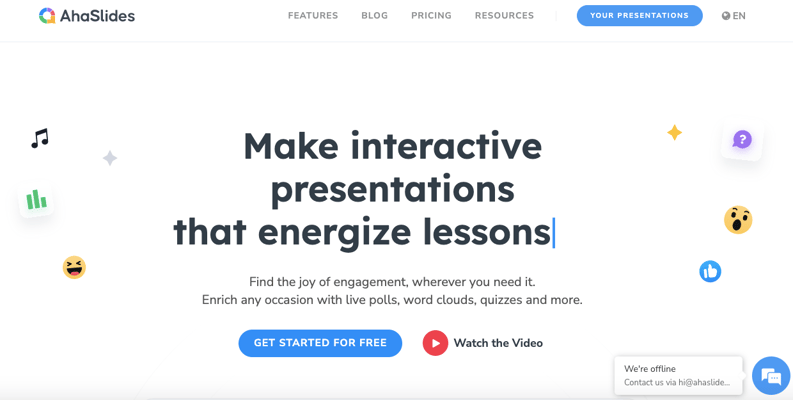 Create a Responsive Audience 

You no longer have to fear boring your audience at an event. When you walk into a conference, meeting, or another type of speaking opportunity with an engaging presentation, you don't need to worry about whether your attendees will like it. Audience response systems will ensure you have a fun, unique, and interactive presentation that keeps your audience interested. All you have to do is pick the platform best for you and watch your attendees enjoy every minute of your event.